Brief History of Carabrae
The CARABRAE affix was granted by the Kennel Club in 1958. The name was made up from an anagram of the family initials and had a Scottish connotation as the first breed I had was Shetland Sheepdogs.
However Pyrenean Mountain Dogs were the breed that put CARABRAE "on the map". From 1966 to 1996, thirty six dogs were exported to 19 countries.
The original Pyrenean Mountain Dog Kimbailey Mardi Gras (Pedro) joined us in 1965. He was the first of a long and successful line. Every homebred dog and bitch has him in their pedigrees. His grand-daughter Champion Carabrae Superdocious was Best of Breed at Crufts in 1973 and in the last six in the Group.
| | |
| --- | --- |
| In 1976 while judging in the USA, I was given Barqueill Gainsborough of Carabrae (Blue) by Frankie Glover. He stamped his quality, construction and temperament on the breed. He is behind a large percentage of the winning PMD's in the UK today. | Blue |
| | |
| --- | --- |
| Remy | After his death in 1988 I bought L'Amour de la Griffe D'Ours (Remy) from Henri Remy in Belgium. |
| | | |
| --- | --- | --- |
| | I was very lucky that the genes of these three great dogs blended very well and Remy was able to add the elegance and refinement of the tall French dogs and also the very elusive dreamy expression as shown here in his daughters. | |
An added bonus was that all these dogs had and reproduced excellent hip scores. Pedro was before the scoring scheme but Blue was 4/5 and Remy 0/0!
Rosie was the mother of the last CARABRAE Mountain Dog litter which was born in 1994, and included our last Stud Dog Carabrae Chapeau de Napoleon (Nito)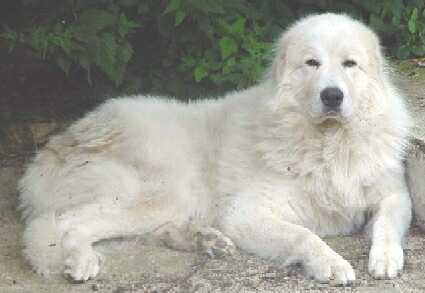 19.9.94 - 10.4.02.
After Nito's untimely death at 7 years I did not intend having any more Mountain dogs. I then saw a suberb litter from his daughter Sketrick Enchanting. I was hooked once again and two of his grandsons Sketrick Fabian and Fagan (Buster and Keaton to us) now live here. They are owned jointly with their breeder Lesley Waters who has shown them both very successfully.
Autumn 2007 saw Buster and Keeton return to their Breeder.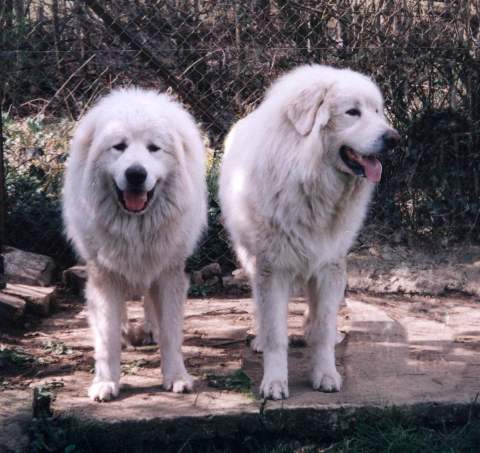 Sketrick Fabian & Sketrick Fagan
(Buster & Keaton)
© copyright Carabrae 2007